Take control

of port calls

Cargo monitoring to help containerships stay on schedule.
Real-time containership cargo monitoring system
CargoMate is the worlds first and only system that enables shipping companies to monitor cargo operations online in real-time, creating opportunities for vessels to sail early. The real-time monitoring system helps vessels stay on schedule and reduce fuel consumption. The system is intuitive and easy to use and allows you to take control of every port call.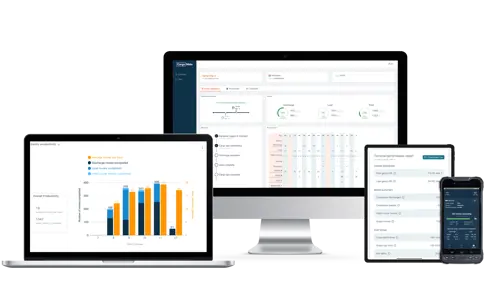 Advantages of CargoMate
Port call control
Allows you to take control of every port call to keep vessels on schedule
Global system
Works in every port across the world.
Easy to use
Whether you're on board or ashore, monitoring a port call has never been easier.
Complete visibility
Complete visibility of every event on board and gantry move for shore-teams.
Keep vessels on schedule
Allows you to take control of every port call to keep vessels on schedule.
Easy installation
Contactless installation on board – just plug and play!
Secure system
Cybersecurity – does not interfere with existing devices on board.
Reduced fuel costs and lower emissions
The easiest way to reduce fuel consumption and emissions is to sail slower. By reducing idle time in port, ships gain more time on voyage, reducing the speed required for the sea passage. Using real-time estimations and advanced notifications, CargoMate provides insight to get ships sailing sooner, keeping them on schedule and reducing idle time in port.
Ensuring sustainability
To ensure sustainability for the shipping industry, reducing fuel consumption is vital. Reducing a ships speed by just 20% would help to cut ship emissions by up to 34% and cut underwater noise pollution by 66%. CargoMate can monitor cargo completion times to reduce time in port, keeping the vessel on schedule to sail at a reduced speed.
A partnership
CargoMate is developed by Intelligent Cargo Systems, a maritime technology company specializing in the container industry.
CargoMate example
A fleet of five vessels sailing on one route over a period of two months used an additional 111.2 tons of fuel. If the vessels had been able to reduce their speeds between ports, they could have seen a significant reduction in fuel.
The excess fuel caused the five vessels to:
Use additional fuel costing U$38,000
Create 383 tons of unnecessary CO2
The CargoMate system
The system comprises of a mobile device for the vessel and a dashboard for use by ship operators to monitor cargo operations in real-time.
Both work seamlessly together and communicate by the mobile device connecting to it's local cell carrier and then to the dashboard via the cloud.
How it works
From the moment crew log that the gangway is rigged and checked, to the minute cargo operations are complete, every detail of the vessels' port call is synced from the device on board to an online dashboard, giving shore-based teams complete visibility of every port call, for every vessel in a fleet.
The mobile device tracks the number of container moves remaining during loading and discharging to accurately predict if port operations are early, on time or delayed - regardless of where your vessels are in the world.
The mobile device is always up-to-date, transmitting real-time port activities to the desktop dashboard. The status of gantries, hatch covers, gearboxes and special cargo such as Dangerous Goods and Out-Of-Gauge cargoes are all displayed on the mobile device.
Real-time port activity
Shore-based teams can view real-time port activity as it happens using the dashboard, available on laptop, PC or tablet.
Notifications of the estimated time of cargo completion enables just-in-time planning of all port services and planning to the next port, reducing administration time on board and ashore.
Berth performance
CargoMate is the only system in the world that neutrally records berth performance. The same TPFREP report in the same format and as a CSV file is automatically generated, so you can compare reported performance against observed performance.
Would you like a demo of CargoMate?
Contact our experts to arrange a demo of CargoMate or to ask them any questions about our software solutions.
Get in touch
Phone
+45 3334 3560
Email
operations@weilbach.com
Thank you for reaching out to Weilbach
We've received your message. Someone from our team will get back to you as soon as possible, at the latest within 48 hours. If it's urgent, we encourage you to call us at +45 3334 3560 Have a wonderful day!