Specialists in
marine data
Let us design a software solution for your maritime business.
We give meaning to your data
Weilbach design software solutions for organisations to obtain, process and analyse their marine data. Having software custom-made provides a seamless and integrated solution that aligns with your company's workflows and processes. Custom-made software is tailored to the specific needs and requirements of each company we work with, ensuring that it addresses their unique challenges and goals. We are experts in managing large amounts of data and presenting them in a clear, easy to use and understandable way, so if your company has a specific maritime problem, we can design a custom-made software solution for you.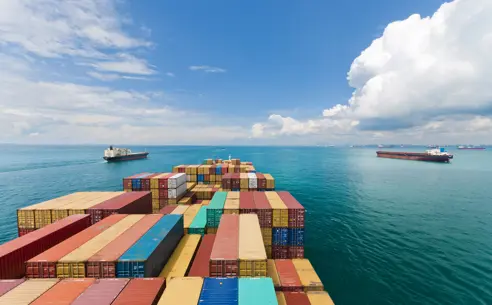 Advantages of custom-made software
Maritime experts
As well as being highly experienced software engineers, we have maritime experts within the company to relate software solutions to the problems faced on board ships.
Reliable & accurate software
Our software is used in safety critical situations - everything we design is reliable, accurate, easy to use and intuitive, giving you confidence in our software.
Experts in our field
You will be working with a global leader in the industry - we are experts at converting maritime books into digital formats, from PDFs, XMLs and digital log books.
Voyage planning
Integrating and prioritising information to provide an optimal environment for making navigational decisions.
Real time navigation
Get the best situational awareness with our chart display, sensor integration, data analysis and route monitoring.
Chart drawing
Our advanced chart engine can draw all official electronic charts with any kind of geospatial overlay on it.
Data management & workflow
We add value to large datasets by simplifying the searching, checking, editing and analysis of large volumes of data.
Who we design software for
We work with the industry's biggest names and design software solutions for some of the world's largest Hydrographic Offices, shipping companies and distributors of navigational data. People choose our software as it is robust, accurate, easy and intuitive to use and displays the information beautifully.
Our process
Our design process is very simple and effective - we make sure we fully understand the challenges faced by our customers and work closely with the companies at each stage of the development. When combined with our industry experience and creativity, we can create the perfect solution for your organisation. We aim to design software solutions that exceeds the expectations of our customers to provide more flexibility and scalability than off-the-shelf solutions. As a company grows and evolves, its software needs may change, and custom-made software can be adapted and modified to meet these changing needs.
Software development
CherSoft is the software company within the Weilbach group and are based in the UK. Founded over 20 years ago, CherSoft combine software, data and their maritime and ship knowledge to create effective solutions and services to the maritime industry. The company is made up of software designers who are experts in creating and implementing software solutions that makes sense of maritime data. Organisations use our software solutions for many different applications, including passage planning, fleet tracking, tidal analysis and providing shipping companies with marine distances.
Would you like to know more?
CherSoft has its own website with additional information and contact details. Click here to visit CherSoft.com
Go to CherSoft.com